关於我们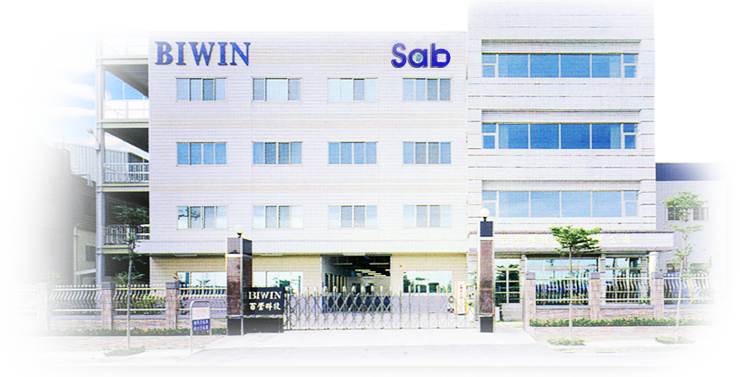 百莹科技的英文名BIWIN,取自於win-win,也就是双赢之意。我们自1986年成立以来,致力於与顾客及供应商建立起双赢的夥伴关系,并专注投身於电子开关的领域中。我们自主设计并制造如指拨(程式)开关丶旋转开关丶按压开关等产品,并拥有自己的品牌「Sab」,期许成为开关领域的专家(Specialist),於我们可靠的产品与服务中创造优势(Advantages),以提供利益(Benefits)予我们遍布全世界的客户与整个开关产业。
百莹科技不仅仅只供给一般的标准开关,同时也运用我们在生产上的专业以及研发能力,提供客制化的解决方案给我们的顾客。我们於产品的设计与制造流程中建立起垂直整合,使我们更有能力提供最完整丶最有弹性的方案,以供应最高的品质丶及时的交货以及具竞争力的价格给不同的产业需求(如工业控制丶医疗丶车用丶安全丶通讯等)。
百莹科技持续在为技术创新丶持续精进以及更高层次的顾客导向中奋斗,希冀可以创造出更卓越的产品与服务,并且在如此快速变化的市场中,与我们的夥伴建立起双赢的合作关系。
创立於 1986年
2011
Develope TR series 5,000,000 cycles short-travel keyswitch.
Develope TM series 10,000,000 cycles (LED) pushbutton switch.
2010
Develope Rotary Selector Switch.
2009
Develope Slide Seclector Switch & Rotary Coded Switch.
2008
Develope TE series 1,000,000 cycles Tact Switch,.
Develope Automotive Device.
2006
Develope DMI/DMX series, SIP series.
Extending SOJ series, DIJ series, DPJ series.
Extending BA series.
2005
Extending BS, BP. DI series 1 position.
Extending SOP series 1,3,5 pole.
Extending NP series 2-12 poles.
2004
China Factory set up 18 Lines.
2003
Oct, starting production Half-Pitch DIP SW in China factory.
2003
Oct, starting production Traditional Slid type DIP SW in China factory.
2003
May, set up new factory in China.
1999
Finished Automatic Line to 16 Line.
1998
Set up BIWIN new plant in Tai-Li Industrial park.
1997
Extending Automatic Line to 12 Lines.
1996
Extending Automatic Line to 10 Lines.
1994
Enlarge Molding Shop and Extending Automatic Line to 8 Lines.
1993
Started production Half-Pitch 8 positions.
1992
Started production Piano type DIP SW.
1991
Set up Automatic production line for all products.
1990
Enlarge Factory, Developed Miniature Piano type DIP SW.
1989
Production SMT type 2,3,4,5.6,7.8,9,10.12 positions.
1988
Adding IC type series 3,6,7,9,12 positions.
1987
Production IC type 2,4,6,8,10 positions.
1986
Develope IC type DIP SW, Full automatic production line.